Advertising and marketing companies in Australia are rapidly adopting QR (Quick Response) codes.

Look around you and you'll see them in newspapers and magazines, at bus stops and events and outside restaurants. These QR codes are extremely easy to use and allow consumers to immediately access or interact with information that they're interested in on advertisements that they come across anywhere anytime.
QR codes are square black and white boxes, similar to barcodes. They vary in the amount of data they can hold. Some can hold business contact information and others can hold URL links to mobile optimised website pages.
Consumers scan the QR code with their Smartphone and immediately link to a mobile optimised website. Some of the best smartphone apps are: i-nigma ( iPhone ) and Codee ( Android ).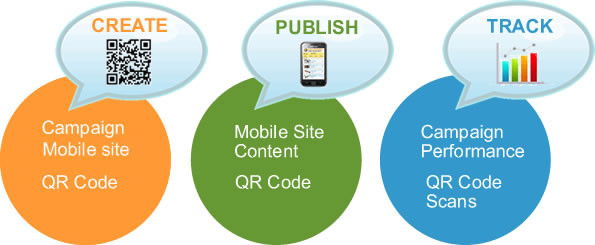 The concept is simple. You create a mobile optimised site or a landing page. You have your QR code advertised somewhere. The user scans the QR code and gets taken to your mobile landing page.

QR codes are very easy to use and are very practical for businesses to improve their marketing and advertise their products and services.

The mobile landing page can be a:
A video clip
A discount voucher
Survey
A competition entry form
An event registration form
A property for sale
Restaurant menu
Items for sale
...or any product or service information that you offer !

At Clan Media, we specialise in QR code marketing and tracking tools and have developed a wide range of online systems to help you successfully market your business with QR codes.

Our products range is listed below. We can also extend any existing product or custom build features for your business, such as:
QR Code / Mobile landing page building CMS
Mobile forms Builder
Mobile surveys
Mobile videos
Mobile PDF file downloads
Mobile image galleries
QR Code scan analytics reporting
QR Code high quality printing and merchandising
Clan Media has developed HyeDroid QR – a system to create manage and track your QR code advertising and marketing campaigns.
HYEDROID QR allows you to manage:
Your QR code based campaigns
Campaign-specific unlimited mobile landing pages
Media libraries for images, banners, documents, videos and interactive image galleries
A very quick mobile web form builder, submission data export tools
Statistical reports on QR code scans
QR code scan location control
Media type control (such as signs, packaging stickers...etc )
High quality merchandising material, laser engraving on metal and wooden surfaces.
A very easy to use and a totally customiseable system to suit your business needs and to expand with your business
The screenshots below will give you a clearer understanding about the standard system and its features: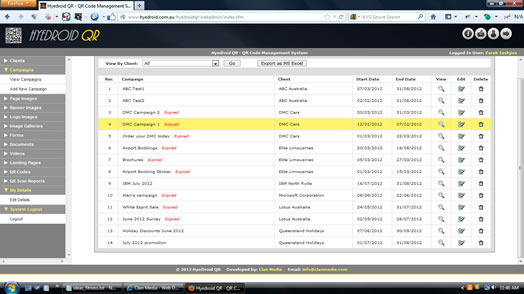 You can create, manage and track QR code based advertising campaigns. These campaigns can be active within a specific time period (start date and end date)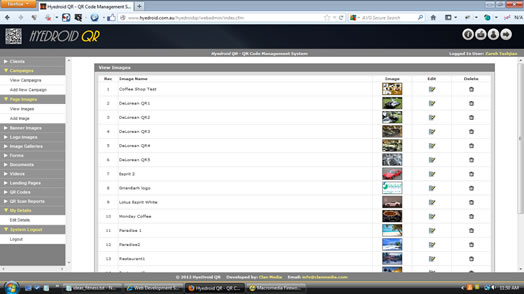 You can create and manage all your mobile landing page image libraries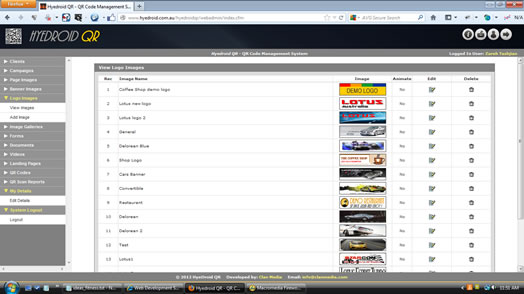 Create and manage all your mobile landing page headers and page logo libraries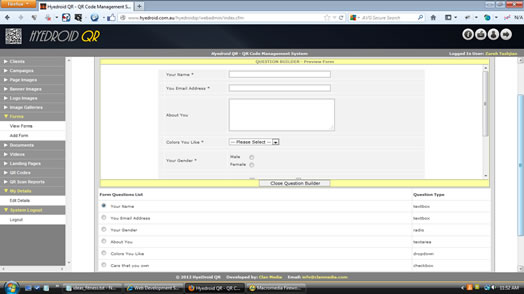 Create all your web forms, build surveys on the fly and link the surveys to your mobile landing pages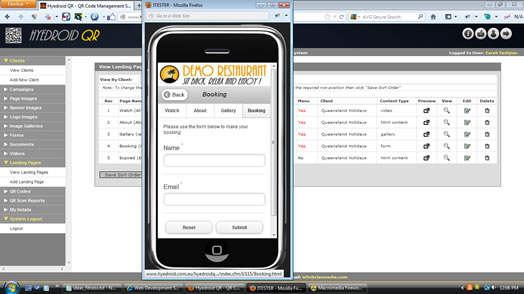 Preview all your web forms and select a page theme from a choice of six colors.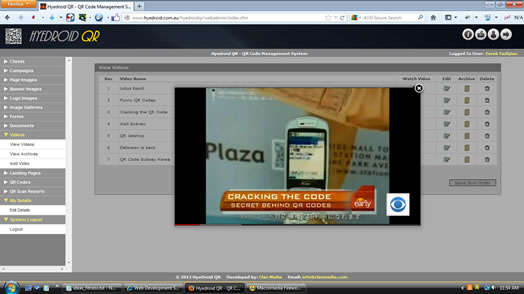 Manage all your you tube videos and link the videos to your mobile landing pages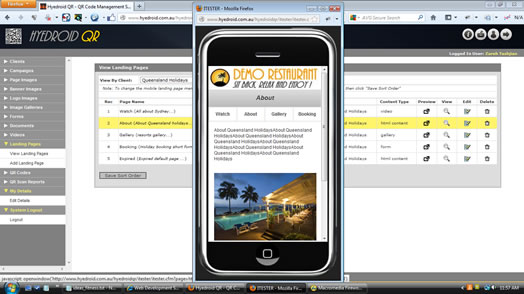 Build and manage all your mobile landing pages choose a pre-set theme, build a mini mobile site very quickly
Create multiple trackable qr codes for each campaign based on media type and location. The media type is the product that you use to display the QR code (such as a laminated sign) and the location would be the area where the product is displayed (such as #No Elizabeth Street Sydney )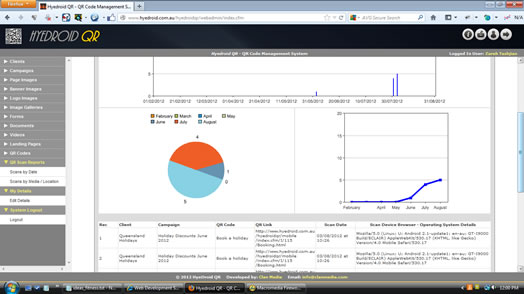 View live reports of the QR code scans by daily, weekly and monthly date range, location, campaign and media type. The system can also send you an email notification every time a QR code is scanned.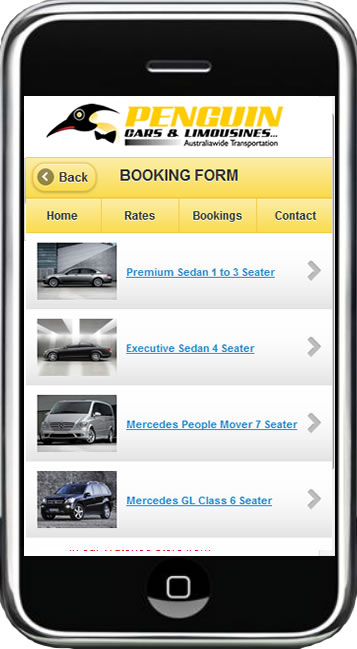 The example above is for a limousine booking form and mobile landing page. The system generates a unique QR code with an embeded link.Once the QR code is scanned the scan will be tracked and the user will be automatically taken to the relevant mobile landing page.
The example above is for monthly competitions. The system generates the related landing pages to watch a video and enter the competition for that month.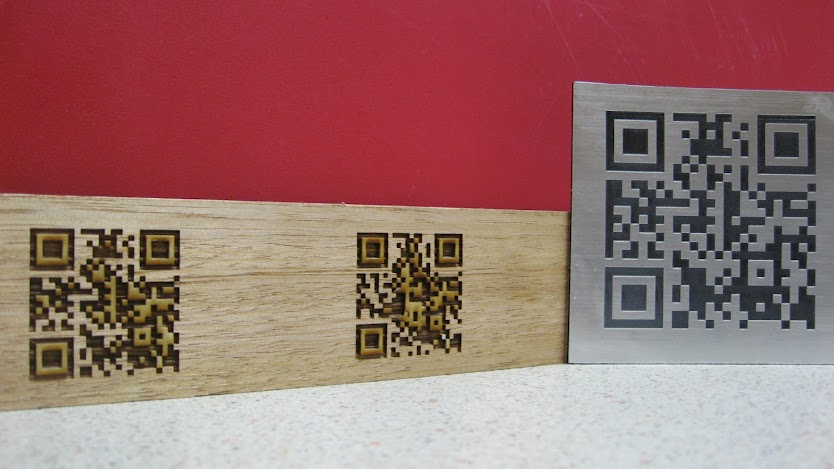 The QR code can be exported as a high quality PDF for merchandising printing and engraving on various products and a variety of surfaces.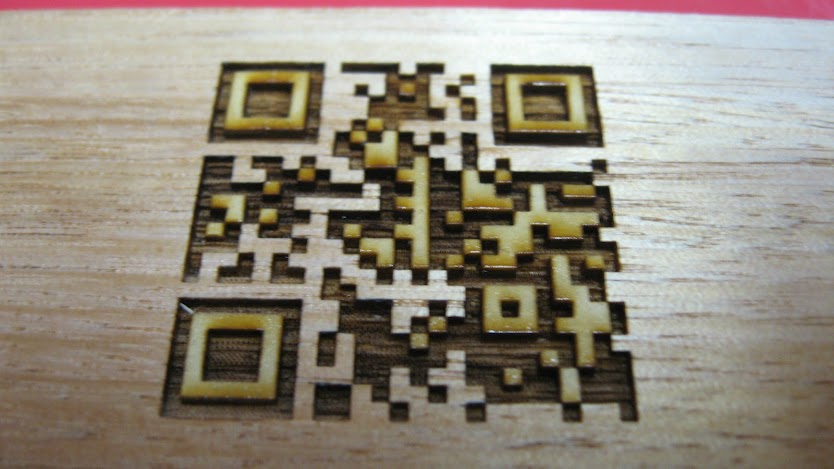 An example of a laser engraved QR code on a thick wooden surface.

If you like to explore options for your business, please email us at: info@clanmedia.com